sketched sofa
For as long as I remember (or for as long as I can write properly) I put my thoughts on paper when I'm frustrated or down (luckily this doesn't happen too often as I'm a positive person.) Every now and then those ramblings are suitable for a poem, so I twist and tweak the words (and google around for suitable English words, that's when it becomes clear that English isn't my first language). And on the more rare occasion they turn into something positive. I decided to see if one of my positive poems could work for Zazzle (or for art in general). And while I was trying something new I figured I might as well dive deeper into sketching in Adobe Illustrator. While I love that program sketches never turned out well for me. Until now. I'm quite pleased with the result I must say! I plan on making a poster or canvas out of it too, I haven't done either on Zazzle yet, so I'll read up on it a bit and then convert it to either of them.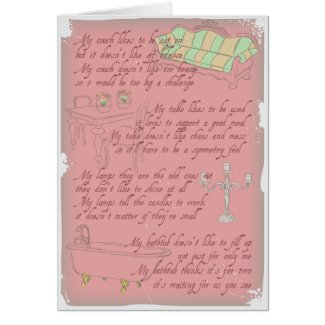 My house is like my heart
My couch likes to be sat on
but it doesn't like off balance
My couch doesn't like too heavy
so 3 would be too big a challenge
My table likes to be used
it loves to support a good meal
My table doesn't like chaos and mess
so it'll have to be a symmetry feel
My lamps they are the odd ones out
they don't like to shine at all
My lamps tell the candles to work
it doesn't matter if they're small
My bathtub doesn't like to fill up
not just for only me
My bathtub thinks it's for 2
it's waiting for us you see
My house is not as strange as it seems
it's actually kinda smart
My house knows when it's ready that's all
My house is like my heart
~C.Blom
The last verse is shown on the inside of the card with a sketched heart.